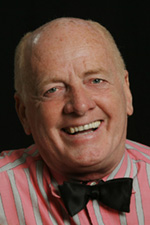 A performer all his life, NEVER out of work.
Jack was born in Texas Queensland Australia. Yep there's a TEXAS in Oz! Then he did all the usual things, drama school, musical theatre, big musical productions touring Australia and New Zealand.
Then to England starting his own theatre company, to develop his classical repertoire, versatility in stagecraft and choreography, and receives some awards before heading back to Australia.
Some big rock shows, then off round Oz with his own productions. 1,000,000 kms later, he is the only person to have taken full scale, fully staged repertory theatre (a different play each night) to remote communities the length and breadth of Oz. A big country.
All the while he dragged a long-suffering wife and little son who grew up sleeping inside the stage setting! Then still doing it his way he resolved to make an entertainment out of his audiences' names and of friendship circles.
Since 1985 he has travelled New Zealand, the UK, and Australia doing just that.
And now, its time to see the world.